Blogs/Robert Walker/Will First Mars Astronauts Stay In Orbit - Tele-operating Sterile Rovers - To Protect Earth And Mars From Colliding Biospheres
< Blogs/Robert Walker
Robert Walker
> Will First Mars Astronauts Stay In Orbit - Tele-operating Sterile Rovers - To Protect Earth And Mars From Colliding Biospheres
TEST OF IMPORT OF PAGE FROM: Will First Mars Astronauts Stay In Orbit - Tele-operating Sterile Rovers - To Protect Earth And Mars From Colliding Biospheres? using Foliovision html to wiki - seems to work pretty well except, images not copied, have to do that manually for now, but will see if I can enable inlined images.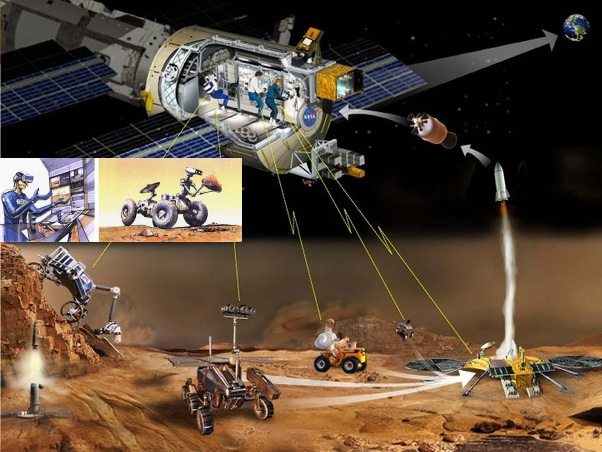 Mars is extraordinarily cold and dry, like our most arid deserts. Harsh but possibly not totally lifeless. There is a chance of life there, hidden away perhaps in thin layers of brines just a couple of centimeters below the surface, or as spores within the dust. Our astronauts will be covered in microbes from Earth too and our habitats filled with life. What happens when life mixes together from these two biospheres? This might be their first meeting for billions of years, or the first time ever, as astrobiologists haven't yet ruled out the possibility that Martian life is independently evolved. And if the more optimistic projections of Elon Musk, some NASA enthusiasts, and Bill Nye and others are fulfilled, then this encounter may happen as soon as the 2030s, perhaps sooner. Are we ready for it?
We might get on wonderfully well with our microbial interplanetary neighbours. But there again we might not. Legionella bacteria for instance grow in biofilms and also in our lungs causing Legionnaires' disease. Blue green algae sometimes form greenish patches that cover our lakes and the sea. They produce toxins that are probably targeted at other tiny creatures in our seas and lakes, but still sometimes kill cows and dogs, rapidly, in hours, by destroying their livers. Sudden deaths after nibbling at algal blooms washed onto the shore.
We need to know the answer to this, and until then, we have to protect Earth from Martian microbes. NASA hope to return small samples from Mars in the 2030s. But we are no longer back in the naive days of Apollo when there was little public awareness of the need to protect Earth's environment. Numerous laws have been passed since then, and they can't be ignored. I've suggested that once they start on the legal process and discover how much is involved, they are likely to take the easy way out and return it to somewhere that requires no extra laws to be passed, say, to above Geostationary Orbit, or sterilize the samples before returning them to Earth.
If it's so hard to return a sample of rock by 2040, what about an astronaut who has landed on Mars, and got covered in Martian dust? How could we prevent any Martian life in the dust from finding its way back to Earth at the end of the mission?
The keenest Mars colonization enthusiasts sometimes argue that we don't need to take any precautions at all. But their arguments are not accepted by planetary protection experts.
Indeed the expert reports, and there have been many, all say that we need to protect Earth's environment from native life returned from Mars. See for instance the study by the European Space Foundation: (Mars Sample Return backward contamination – Strategic advice and requirements) and a similar one by the NRC of the USA (Assessment of Planetary Protection Requirements for Mars Sample Return Missions). Those warnings would not be ignored as we work through the laws that protect Earth's environment.
The answer to all this is to find out a little about our microbial neighbours before planning an exchange visit of this sort. However, we haven't started on this yet. We've sent many missions since the Viking landers in the 1970s, but they were all searching for habitability, not life.
So, how should we do this survey? Why would we do it from orbit? And might that even be required by the laws to protect Earth?
Let's investigate.
(skip to #Contents)